Info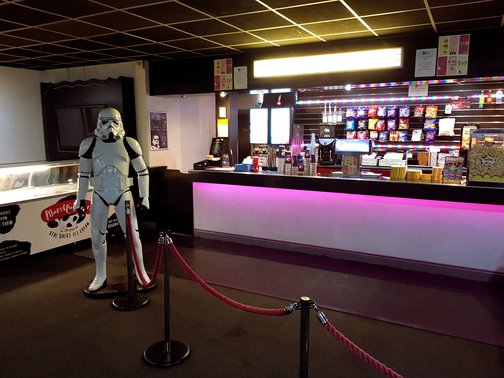 Identification
It is essential that ID must be shown for all age appropriate films (eg 15 & 18 certificate films) This can be in the form of a Passport, Driving Licence & Pass Card. Photo copies or photo on a smart phone are accepted. Failure to produce ID when asked will result in non admission.
Under 12 year olds are allowed to view a 12A certificate film with supervision of an adult over the age of 18.
children over the age of 12 months are chargable.
For more infomation on certification please visit the BBFC website: http://www.bbfc.co.uk/
Parking
At Movie Starr we offer FREE PARKING for our customers. HOWEVER, to qualify for this you MUST enter your vehicle registration into our systems at the box office. You WILL be charged by the parking company otherwise.
Essex Pass
Movie Starr offer deals for customers using the 'Essex Pass'. Deals can be found on the Essex Pass App or website.
Food and Drink
It is important to remember that only food and drink purchased in our cinema, can be consumed in our screens.
Ticket Prices
Standard Pricing
Monday-Sunday
Adult – £6.00
Child – £6.00
Kids Club
Adult – £3.50
Child – £3.50
Booking Fee
Please note there is a 50p per ticket fee applied to all tickets purchased on this website.
Screens
All screens are fully Air Conditioned.